The Maharashtra government is facing calls to pass legislation to protect the state's gig workers from exploitation and provide them with social security and welfare rights and benefits, after cab drivers and food delivery workers engaged by app-based platforms held a one-day strike in the cities of Pune and Pimpri Chinchwad in late October.
During the huge strike, drivers working for taxi apps like Ola and Uber, as well as delivery partners and gig workers engaged by food aggregators such as Swiggy, Zomato and the home cleaning and beauty treatment platform Urban Company, urged the Maharashtra government to pass laws similar to Rajasthan's recently enacted Platform Based Gig Workers (Registration and Welfare) Act 2023. This levies a tax on all customer transactions on app-based platforms in the state of Rajasthan to fund social security benefits for the state's gig workers, such as accident and health insurance, pension contributions and employees' state insurance (ESIC).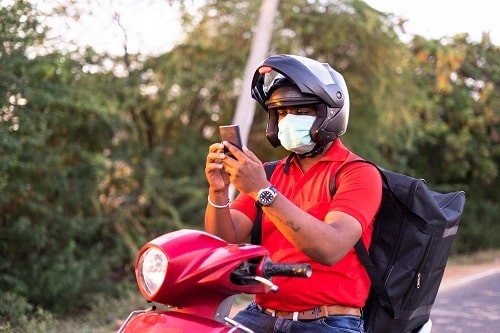 During the strike, which was organised by the Indian Gig Workers' Front (IGWF) in collaboration with the Indian Gig Workers Forum, the gig workers also called on the Maharashtra government to adhere to the Cab Aggregator Guidelines 2020, proposed by the Supreme Court a few months ago, aimed at regulating the sector.
The participating taxi drivers also demanded minimum fixed base rates for cab fares, the reinstatement of previous charges for services like waiting times, passenger cancellations and night rides, and a fair investigative process before taxi apps can impose penalties on drivers, according to Pune News. Rickshaw pullers called for an immediate end to platform fees, while food and parcel delivery workers demanded access to a daily minimum wage, the establishment of a mechanism to address their problems, and measures to ensure fairness in handling customer complaints and fines, reported Pune News.    
Written demands
Dr Keshav Kshirsagar, a member of the Indian Gig Workers' Front, also presented a detailed written set of demands to the Pune Regional Transport Office (RTO) and the Pune district collector.
According to Dr Kshirsagar, the Pune and Pimpri Chinchwad belt accounts for 1.45 lakh gig workers, including nearly 80,000 cab drivers and 25,000 food delivery workers.
The IGWF argues that Maharashtra's gig workers urgently need minimum social security and welfare rights, to provide them with benefits and protection in the event of accidents and incidents like assaults. The IGF gave the recent example of a teenage pizza delivery worker being abused and assaulted by a householder in Wagholi area of Pune following a delayed food delivery, and the householder firing shots into the air from a gun when two colleagues of the delivery driver arrived at the scene seeking an explanation from the accused man for assaulting the young worker.
The one-day strike in Pune and Pimpri Chinchwad had a major effect on consumers, with general commuters and people trying to reach and leave Pune airport struggling to find taxis, and many food outlets reporting a major fall in takings after being forced to suspend their delivery services.
Rajasthan becomes first state to grant social security benefits to gig workers
In summer 2023, Rajasthan became the first Indian state to introduce laws regulating the growing gig economy and making gig workers eligible for certain social security and welfare benefits. Under the legislation, introduced by the Congress Party-led state government following recommendations by Rahul Gandhi, a tax on customer transactions on digital platforms like Ola and Zomato will be used to fund the new welfare and social security schemes for gig workers. The gig workers will be entitled to various social security benefits, including accident and health insurance, maternity benefits, pension contributions, employees provident fund (EPF), employees' state insurance (ESIC) and scholarships for gig workers' children.
The new law also sees the creation of a welfare board consisting of Rajasthan state officials and representatives from gig workers, aggregators and civil society, to ensure that all gig workers and aggregators are automatically registered with the board. The board will also generate a unique ID for every platform worker and maintain a database of all app-based gig workers and aggregators operating in Rajasthan. The law also includes a provision to levy fines on aggregators for failing to pay the welfare levy, with fines starting at up to Rs 5 lakh for the first contravention but rising to Rs 50 lakh for subsequent violations.
The Congress-led government in Karnataka also announced seed funding of Rs 3,000 crore so that all gig workers in the state will receive free life insurance and accidental insurance cover, with the state government bearing the costs of the insurance cover.
Maharashtra has largest number of gig workers
Dr Kshirsagar from the IGWF said that while Maharashtra has the largest number of gig workers in the country, the state has yet to frame any laws regulating the local gig economy.
"Rajasthan is the first state in India to introduce a bill for the Rajasthan Platform Based Gig Workers Act, 2023 (the Act), leading the state of Rajasthan to be the first Indian state to regulate and support the growing gig economy workforce through this comprehensive legal framework," he told the Hindustan Times. "On those grounds, we want a similar law looking after the interests of the gig workers in Maharashtra."
According to a recent Boston Consulting Group report, the gig economy has the potential to service up to 90 million jobs in India's non-agricultural economy alone, transact over USD 250 billion in volume of work, and contribute an incremental 1.25 per cent (approximately) to India's GDP over the long term.